Rinnai is proud to be partnered with the reputable Air Conditioning Dealers Association for the domestic air conditioning market.
As a leader in hot water, heating and cooling solutions, Rinnai is a trusted brand providing reliable high quality products through their suite of brands: Rinnai, Brivis and APAC. Australians have been enjoying the comfort, convenience and reliability of Rinnai appliances for over 50 years.
Rinnai Australia supplies some of the world's leading products sourced locally from Australia, and from Rinnai's 40 plus manufacturing facilities in Japan and around the world. Our products extend across a broad category base, heating and cooling systems for single rooms, whole of house and commercial buildings (ducted and reverse cycle air conditioning). Rinnai Australia also supply renewable energy systems including heat pump, solar, geothermal and photoelectric appliances for renewable energy heating and cooling applications.
Our mission has always been to offer appliances that are essential in helping people lead comfortable, safe and efficient lifestyles. Rinnai utilises global expertise to create comfort solutions suited to the Australian way of life. Rinnai has become a trusted name providing reliable, high quality products, through their suite of brands; Rinnai, Brivis and Apac.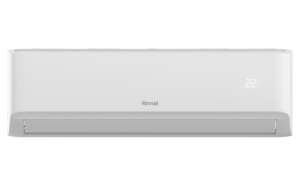 Our Cooling & Heating products
You can trust Rinnai to help keep you cool with our quality engineered cooling systems are designed for our country's climate extremes, to offer you the ultimate in-home comfort and reliability.
Our standard cooling ranges include inverter split/multi split systems, ducted reverse air conditioning, evaporative cooling, inverter cassette and portable air conditioners.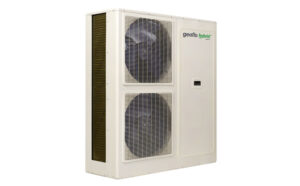 Renewable energy – Geoflo – Reduces energy costs by up to 50%
Rinnai's revolutionary Geoflo product is a highly efficient direct exchange geothermal system using world class technology to harness green, renewable energy from the earth for cost effective heating and cooling of your home.
Rinnai's Geoflo system utilises the stable temperatures found underground, and extracts this as green energy via state of the art Rinnai technology, which reliably delivers highly efficient heating and cooling air conditioning comfort in your home regardless of the outside air temperature.
Geothermal heating and cooling systems tap into the abundant levels of energy stored below the earth's surface to reduce your heating and cooling costs by as much as 50 percent. Geothermal systems can be installed in any sized home or business in virtually any location.
Cooling & Heating Controllers
Total home comfort at the touch of a button – the Rinnai range of controllers are flexible and simple to use allowing you to keep in control of your Gas Ducted heater, Evaporative Cooling or Add-On Ice.
Our new Rinnai Touch Wi-Fi can be retrofitted, utilises existing home or mobile Wi-Fi network and is compatible with IOS and Android smart devices.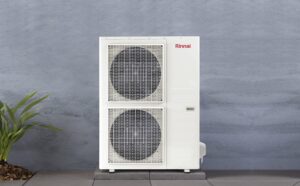 Brivis DualComfort™
Imaging the combination of Ducted Gas Heating with refrigerative cooling, providing a superior whole home climate control solution at an affordable rate. The Brivis StarPro series or Classic Buffalo of Ducted Gas Heaters provide the flexibility to integrate a Brivis ICE™
(Integrated Cooling Equipment) refrigerated system, all while using the exact same ductwork and grilles – saving you both time and money. We call this technology, Brivis DualComfort™.
APAC by Rinnai – Commercial HVAC
The supplier of choice for industrial and commercial air conditioning throughout Australia, with an innovative, tailored approach.
Extensive industry experience results in developing solutions for any sized commercial or industrial application, anywhere. Our expertise understands the harsh Australian operating environments and unique conditions – creating bespoke solutions suited to your specifications.